Custom Badge Reels & Badge Holders
Pair your lanyard with convenient custom badge holders or customize a stand-alone badge reel!
Badge holders and custom badge reels are a great way to customize your lanyards and make them even more convenient to use. If you need to carry an I.D. badge, access card or similar accessory in the workplace, attach a badge holder to your custom lanyards. You'll have a convenient, easy-to-use, hard-to-lose way to keep those items close at hand and ready to display. A custom retractable badge holder makes these indispensable items much more convenient. If your workplace needs to make a badge reel that's more appropriate than a lanyard, we carry a full line of those as well. We can custom imprint your logo on the personalized badge reels and give you the same advantages as a lanyard in a form that clips to a belt or clothing. We offer a range of accessories, including metal or plastic clips and carabiners for your personalized retractable badge holder to give you maximum versatility. Just let us know what works best for you!
Round Plastic Clip Starting at $0.80ea
Square Plastic Clip Starting at $0.75ea
Plastic & Metal Starting at $1.10ea
Large Plastic Clamp Starting at $0.60ea
Metal Carabiner Starting at $2.50ea
Plastic Lanyard Reels Starting at $0.85ea
Metal Round Reel Starting at $2.50ea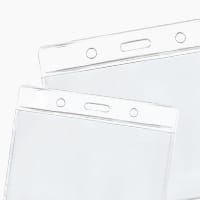 Badge Holders (4.37" x 3") Starting at $0.18ea